HS-314 2-Hydroxyphosphonocarboxylic Acid (HPAA)
Product name
HS-314 2-Hydroxyphosphonocarboxylic Acid (HPAA)
Molecular Formula
C2H5O6P
Structural Formula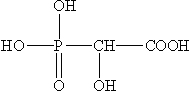 Properties & Use
Good chemical stability, safe use, non-toxic; mainly used as cathodic corrosion inhibitor for metals.
Specifications
Conform to HG/T 3926-2007
Appearance
dark brown liquid
Organic phosphorus(PO43-)% ≥
25
Phosphoric acid(PO43-)% ≤
1.5
Phosphorous acid(PO33-)% ≤
3
pH-value (10g/L aqueous solution) ≤
3
Packing & Storage
In plastic drum, 30kg/drum. Stored in cool place indoors, shelf life is 12 months.
Safety Protection
Avoid contact with skin and eyes; wash with plenty of water.